What would a company be without its employees?
As far as we are concerned, we can answer this quite definitely: our employees are at the heart of SDA SE and are our clear priority. It is our aim to support our colleagues in their daily work as best we can.
SDA SE offers a wide range of benefits to help make our employees' workplace as pleasant and motivating as possible and to help them succeed in their work:
Flexible working times
early bird or night owl? –
No matter whether you're an early bird or a night owl – with us, you decide when to work.
You alone best know your most productive hours and the dates of your private appointments. Do you have a doctor's appointment or need to look after children during the day? With us, that's no problem! We want you to be able to harmonise your professional and private life as best possible so as to achieve an ideal work-life balance. That's why, with us, you have the chance to organise your working hours flexibly and on your own responsibility, in the way that suits you best.
Mobile working
– the best of both worlds
Have you turned your home into a perfect work oasis and want to carry on using it in the future? Do you also, however, want to communicate with your colleagues in person, and not have to miss using the height-adjustable desks from where you can enjoy the view offered by our office on the 21st floor of the "Dancing Towers"?
Thanks to mobile working, you can have both!
Upon arrangement with our HR team, we will give you the opportunity to work remotely several days a week. Thus, on the one hand, you can use the advantages of our office facilities to exchange ideas with colleagues and clients, and on the other hand, you can work from the comfort of your own home.
Workation
work where others go on vacation –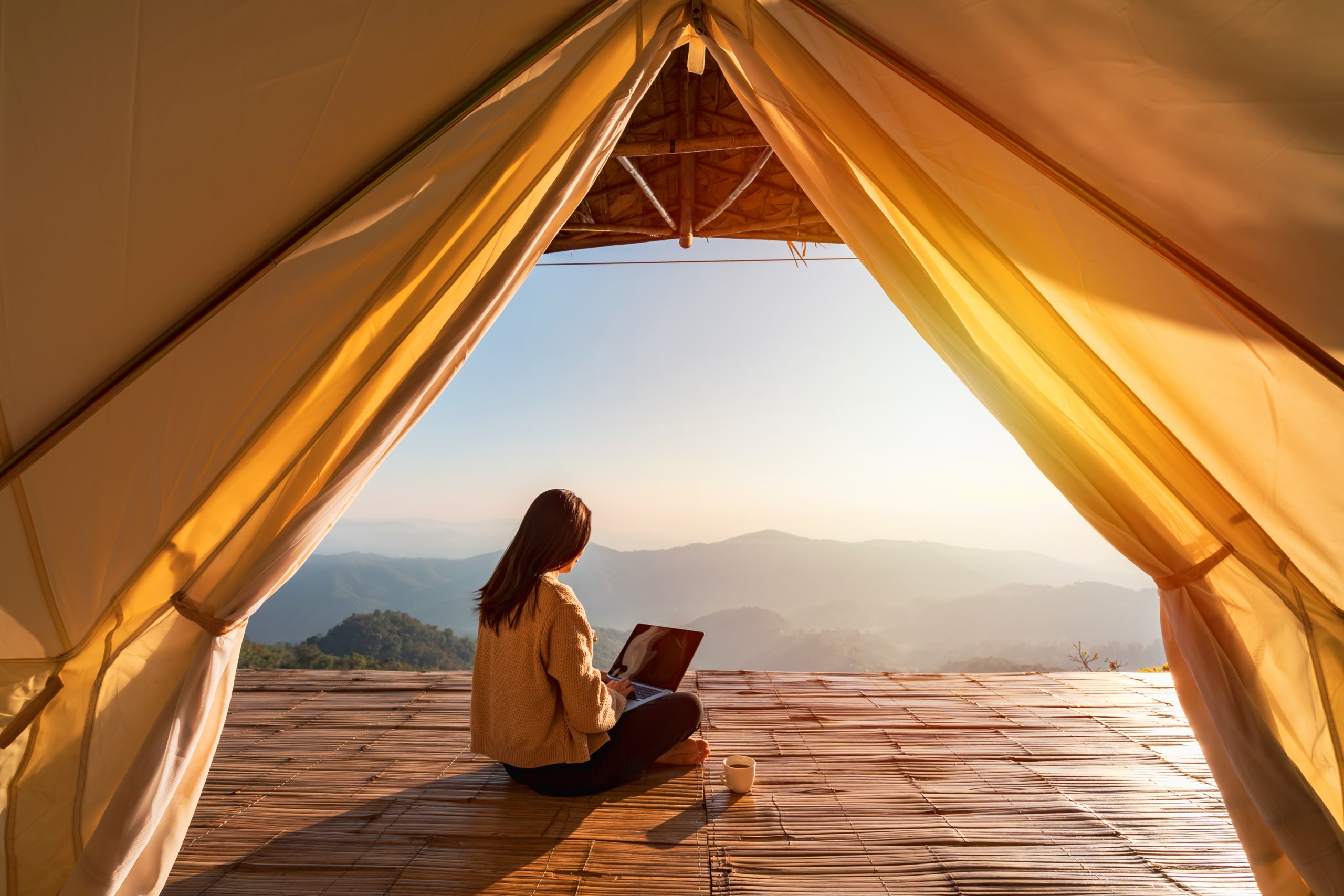 Whether you like a fresh sea breeze in your hair while sitting on a small balcony in Lisbon sipping coffee, a hiking vacation in the mountains of South Tyrol or strolling through the cafés in Paris – at SDA SE you can now work where others go on vacation – up to 6 weeks abroad in the EU! This takes your lunch break and after-work break to a new level and guarantees a mood boost.
State-of-the-art Apple technologies
– always at the forefront
So that you can achieve the best results for you and your team, we at SDA SE opt for a modern and streamlined toolset. To make optimal communication and organisation possible on a daily basis, we use the agile programmes Jira and Slack. The developers use the GitHub tool for the version management of software development projects every day. A MacBook will provide you with the necessary power for your tasks, and for making traditional phone calls you will also be equipped with an iPhone. We are also constantly at the cutting edge with our technologies (Docker, Kubernetes, Java, TypeScript, Stencil, Angular, Apache Kafka, Jenkins/GitHub Actions, ArgoCD, Go) and attach great importance to each agile team being able to choose the tools that make their work easier for them.
Further training opportunities and networking
always up-to-date –
We will support you in keeping up-to-date in your field of work. As we are interested in your personal development, together with you we will look for the ideal training opportunities to suit you and help you advance in your job.
Are you also interested in getting to know more like-minded people? We will be pleased to enable you to participate in networking events and activities.
Team events
– only as a team are we strong
Exchanging ideas and information and communicating with each other is the basis for good cooperation – both at the workplace and in mobile working. That's why we set great store by team events and meetings with colleagues. These range from communal coffee breaks and table football games to the exchange of ideas over a pizza meal, to regular in-house corporate events. Being an agile company, we attach great importance to promoting the exchange of ideas and to encouraging team spirit – for only as a team are we strong.
Creative freedom 
work in line with your ideas –
Help to shape the future of SDA SE – thanks to flat hierarchies and short decision-making paths, you will have a great deal of freedom and scope to contribute and implement your own ideas. Would you like to contribute your expertise regarding optimal work processes, organise a team event or suggest potential improvements?
Use this chance and design your work together with us in line with your ideas.
Urban Sports Club
– stay fit and healthy
Do you feel like pushing your limits while working out? Or would you rather go to a relaxed yoga class? Or maybe you're more in the mood for Pilates in the park or a swimming class? It doesn't matter what you choose, because we offer it all. How? It's simple: with our Corporate Benefit Urban Sports Club. As an employee of SDA SE, you can easily become a member and take advantage of the extensive offer of sports courses – in various gyms, at different locations and whenever it suits you. And if that's not enough, we offer you additional benefits in our office, such as a table tennis table, dartboard, football table, balance boards, massage guns and more.
Job bike
come along for the ride –
Instead of traffic jams and rush hours, would you prefer some morning exercise on your way to work? Then take advantage of our lease-a-bike benefit! By doing so you will not only avoid the nuisance of rush-hour traffic but will also help protect the climate on your way to the office, and can even save up to 40% in comparison to buying a new bicycle. Come along for the ride!
* At the end of the trial period
HVV–Profi–Ticket
– let others drive for you
You want to travel through Hamburg fast and easy? It's not a problem – because we subsidize the HVV-Profi-Ticket! In that way you don't only save a lot of money, but also time and nerves. While others are annoyed by traffic jams, you can relax on the way to the office and after work and arrive relaxed at your destination. In addition, the ticket gets you many other advantages that enrich not only your way to work, but also your free time. You can use it 24/7 and even take another person with you for free on weekends and holidays. In addition, you receive special conditions for car-sharing offers and the city bike. This way you always stay flexible and even if you don't feel like using public transportation, you can still benefit from the ticket.
Refreshments 
food for thought –
So that you can start work refreshed and do not lack the "brain food" you need, we will provide you with fresh fruit and free drinks every day at our office.
Our location
SDA SE Open Industry Solutions
Reeperbahn 1
20359 Hamburg